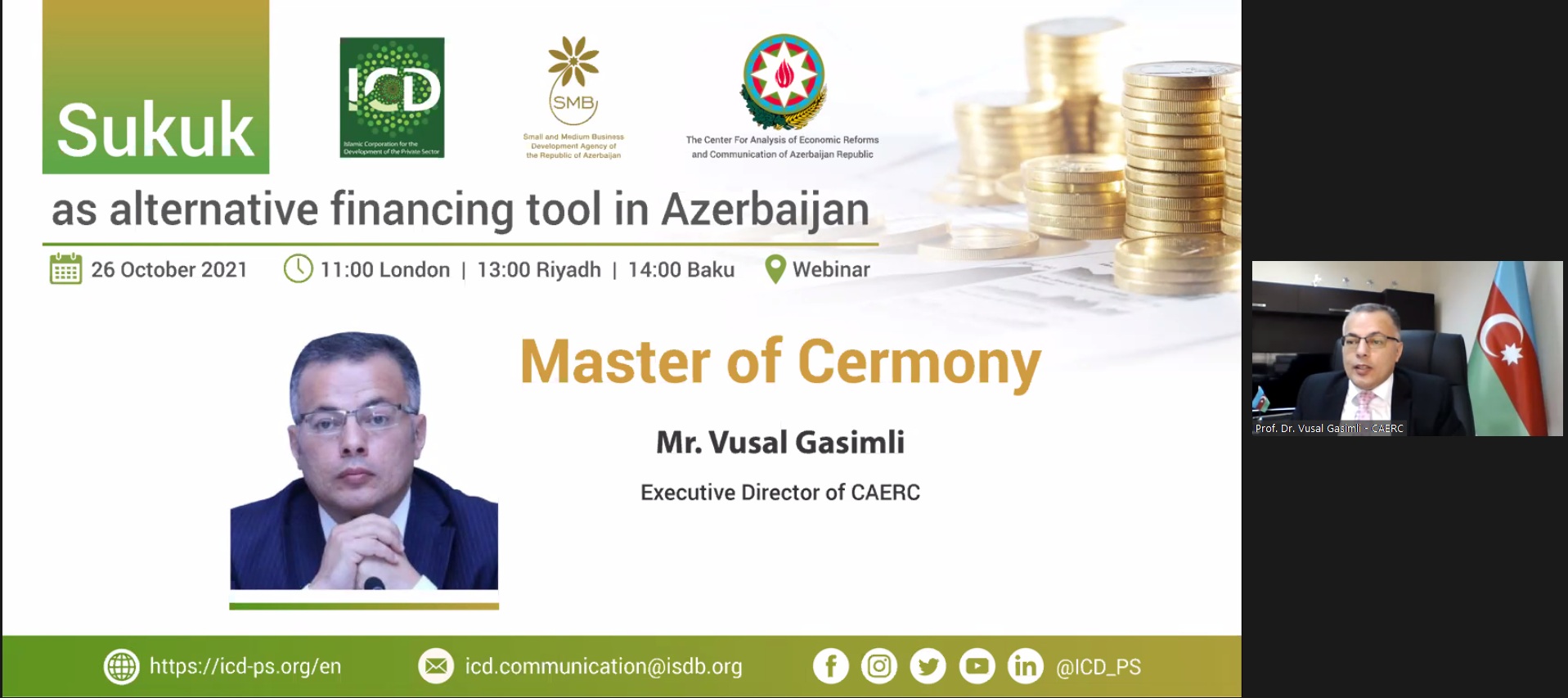 ICD and its Azerbaijan Partners Host a webinar introducing Sukuk as alternative financing tool in Azerbaijan
The Islamic Corporation for the Development of the Private Sector (ICD), the private sector arm of the Islamic Development Bank Group (IDBG), organized a webinar on October 26 aimed at introducing Sukuk as alternative financing tool to finance infrastructure and Public Private Partnership (PPP) projects in Azerbaijan.
The webinar was organized in partnership with the Center for Analysis of Economic Reforms and Communication (CAERC), and the Small and Medium Business (SMB) Development Agency of the Republic of Azerbaijan and in collaboration with the Islamic Development Bank Group Business Forum (THIQAH).
The ICD and its partners recognize that there is clearly room for the Islamic finance industry to grow, especially given that the features of Islamic finance products can appeal to a much wider investor group. Currently, total global financial assets of the Islamic financial industry are estimated at around US$2.88 trillion and according to some estimates are expected to surpass US$3.69 trillion by 2024.
Sukuk is a tradable instrument and can be liquidated in the secondary market if an investor needs liquidity or wishes to cash in on the potential capital gain. Sukuk are emerging as a viable instrument to complement, sometimes even substitute, conventional financing for large infrastructure and energy projects.
The webinar informed all interested parties of Sukuk product and provided a platform for dialogue with peers. It showed the future direction of Sukuk potential as alternative financing tool in Azerbaijan.
Mr. Ayman Amin Sejiny, CEO of ICD, said: "ICD remains committed to support the development of the member countries and will continue to explore ways to do so. This webinar is yet another example that falls under high level plan to help companies in Azerbaijan to access diversified sources of funding".
Mr. Vusal Gasimli, CAERC Executive Director stated that: "Islamic financial institutes are considered as one of the suitable platforms for increasing the access to the financial services in real sector. Current trends and ongoing projects in Azerbaijan show that there is a proper environment for the role of SUKUK on infrastructure development. Therefore, Azerbaijan is open to the alternative financing mechanism called SUKUK".
Mr. Orkhan Mammadov, Chairman of the Management Board of the Small and Medium Business Development of Azerbaijan, commented: Improving access of SMEs to finance is among the priority policy directions perused by our Agency. Although the Government of Azerbaijan with the support of international development finance institutions has been undertaking a noticeable effort over the last years to improve financial landscape for businesses, there are still untapped resources to use and challenges faced. In this term, alternative financial tools are better poised to leverage economic growth of the country in coming years.
Speakers at the first session shed light on an overview of the global Sukuk market, recent developments on Sukuk market, opportunities in Azerbaijan and perspective Sukuk road map for Azerbaijan. Panel discussion with industry professionals on PPP in Azerbaijan: Challenges and Opportunities followed.
The highly acclaimed dialogue provided an opportunity to exchange views and gather feedback on Sukuk market and raised debt via Sukuk issuance. The dialogue was meant to drive in-depth discussions and provided an issuer's road map which ultimately will lead to concrete solutions for potential issuers.
Azerbaijan can unlock infrastructure financing problems with Sukuk. Infrastructure development is one of the most important elements in achieving national and sustainable development goals. Governments across the globe have been using sovereign Sukuk to fund projects and mobilize resources for infrastructure and other economic activities related to energy, renewable energy, transport, logistics, health, education, water and other sectors.
About the Islamic Corporation for the Development of the private sector
The Islamic Corporation for the Development of the Private Sector (ICD) is a multilateral development financial institution and is a member of the Islamic Development Bank (IsDB) Group. ICD was established in November 1999 to support the economic development of its member countries through the provision of finance for private sector projects, promoting competition and entrepreneurship, providing advisory services to the governments and private companies, and encouraging cross border investments.  ICD is Rated A2' by Moody's, 'A-' by S&P and, A+ by Fitch. ICD establishes and strengthens cooperation and partnership relationships with an aim to establish joint or collective financing. ICD also applies financial technology (Fintech) to make financing more efficient and comprehensive. For more information, visit: www.icd-ps.org
About the Center for Analysis of Economic Reforms and Communication (CAERC)
The Center for Analysis Economic Reforms and Communication was set up by Decree 879 dated April 20 2016 of the President of Azerbaijan Republic. The Center develops proposals for realization of economic reforms based on analytical data by conducting analyses and researches on macro - and micro - economic levels directed to ensuring sustainable economic development of the country, as well as prepare mid – and long-term forecasts, provide government authorities and agencies with the same and organize promotion of the achievements made by the Republic of Azerbaijan in various sectors of the economy. So far, the Center has successfully drafted and implemented many governmental level important documents including Strategic Road Map of the country, proposal to the drafting of Tax Code, and other State Programs.
About the Small and Medium Business (SMB) Development Agency
The Small and Medium Business Development Agency of the Republic of Azerbaijan was established in accordance with the Decree of the President of the Republic of Azerbaijan dated December 28, 2017. The Agency Charter and structure were endorsed by the Decree of the President of Azerbaijan dated June 26, 2018.
As a legal entity under the Ministry of Economy, the Agency is authorized to support the development of small and medium businesses (SMBs) in the country by providing SMBs with a number of services as well as ensuring coordination and regulation of services rendered by government entities to SMBs.
While ensuring proper regulation of SMBs activity, the Agency's goal is to increase the contribution and share of micro, small and medium-sized businesses in the national economy, boost their competitiveness, equip them with broader opportunities to access financial resources, improve mechanisms to provide them with institutional support, coordinate the activities implemented by public and private entities in this area, establish favorable business environment to ensure development of entrepreneurship in the country's regions and attract domestic and foreign investments to this area of activity.